Share and speak up for justice, law & order…
Campers wanting to live comfortably for "weeks off grid" and remain safe from bears and, God forbid, bullets, can do so with an outdoorsman delight, the Mammoth Overland ELE (Extinction Level Event). "The trailer was built to withstand the gnarliest of apocalypses!" the company noted.
"Mammoth Overland has created what can only be described as a preppers dream trailer. The base model Mammoth Overland Trailer was already extremely cool and capable, but with a 2 inch lift and larger 33 inch mud terrains, the E.L.E towers over the original HV trailer," the company wrote. "But what's even more impressive is that the trailer was built to withstand the gnarliest of apocalypses!"
"The trailer utilized submarine doors which provide a sealed cabin which is pressurized with purified air," Mammoth Overland wrote. "A drone hatch on the roof deploys a surveillance drone while a 360 boom camera allows you to monitor the parameter from the tv provided in the cabin of the trailer. The new command module interior allows users to optimize their storage and service for weeks off grid. Heated water blankets prevent your water stores from freezing while an instant propane water heater quickly heats water to comfortable shower temps. There is almost too much to list on this incredible off grid trailer, you will just have to see it to believe it!"
WATCH VIDEO FEATURING MAMMOTH OVERLAND ELE
Furthermore, the off-road capable ELE is constructed of insulated aluminum and equipped with several self-defense features. Among them are a boom-mounted night vision camera and a built-in aerosol bear spray system that can envelope the trailer in a cloud of repellent, Fox News reported.
The ELE has a built-in bear repellent spray system. (Mammoth Overland)
The survivalist trailer also has a built-in medical grade E.L. Foust air filtration system. According to the company, it can remove odors from the camper during a three-minute purge, and features a weather station and a Geiger counter.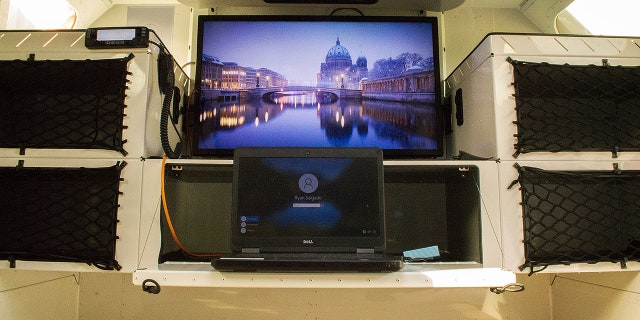 A 32-inch TV and Starlink internet is part of the package. (Mammoth Overland)
Off-grid power is provided by a gas fueled generator, dual 100-watt solar panels and a 20-hour battery.
"You could go weeks off the grid with this power package," said a Mammoth Overland representative.
The trailer is equipped with a swing-out kitchen that's stored in a separate compartment under the hatchback, which means cooking takes place outside.
The Mammoth Overland ELE can be yours for $67,000. If the buyer desires Level 3 bulletproofing, that will cost another $25,000.
The company is currently accepting orders for deliveries scheduled later this year.
Share and speak up for justice, law & order…