TYSONS CORNER, Va. — Cellebrite (NASDAQ: CLBT), a global leader in Digital Intelligence ("DI") solutions for the public and private sectors, wrapped up a four-day presence at the 2023 International Association of Chiefs of Police (IACP) Annual Conference and Exposition. More than 16,000 police chiefs and other senior law enforcement professionals attended the single largest and most impactful law enforcement event of the year.
"IACP is a landmark event in the law enforcement community, and we are pleased to take this opportunity to reinforce our strong ties and relationships with law enforcement professionals," said Yossi Carmil, Cellebrite CEO. "These officials understand perhaps better than most, how our shared mission for justice never sleeps, and I am incredibly grateful for their passion, drive and dedication. I am equally grateful for my team for their unrelenting efforts in support of our business and customers around the world."
Highlights of Cellebrite's event presence include: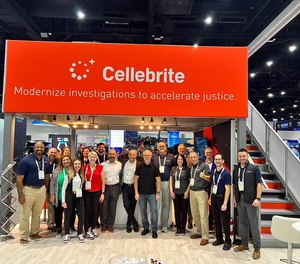 Center-floor exhibition booth space with demonstrations and presentations of the full suite of Cellebrite end-to-end solutions for the public sector including Pathfinder and Guardian;
Cellebrite's CEO and President of North America convened with DEA senior leadership, 132 senior law enforcement and chief leaders to discuss streamlining and modernizing the handling of digital data from time of extraction to prosecution;
Multiple meetings with key officials representing many of the largest cities across America with 60 product demonstrations and more than 500 times as many booth visits when compared to 2022;
An interactive "Solve Suite" where law enforcement gained hands-on experience using Cellebrite's powerful digital intelligence solutions, including demoing its newest innovation, Smart Search, which led a police chief to expedite a request for Cellebrite solutions that was sitting on his desk;
Panel moderation by Jared Barnhart, Digital Intelligence Specialist at Cellebrite, with key partners in the fight against human trafficking, including the National Center for Missing and Exploited Children (NCMEC), the Exodus Road and Raven – this powerful panel was one of the top-attended programs at the event;
Presentation of "Unraveling Crime Mysteries" with Jared Barnhart, Digital Intelligence Specialist at Cellebrite, who shared his law enforcement expertise while discussing real-world examples of how digital intelligence solutions can enhance investigations to solve cases faster, smarter and more defensibly to accelerate justice;
Connect Lounge Sponsorship, a popular meeting spot for law enforcement professionals to network with one another
The panel discussion on child trafficking was a remarkable convergence of global leaders committed to safeguarding children worldwide. They united to synergize their collective expertise for an accelerated mission. It called upon all law enforcement agencies and technology vendors to integrate cutting-edge solutions and increase the number of rescued children. The "Unraveling Crime Mysteries" presentation illuminated cases solved through technology, emphasizing the need for agencies to adopt smarter, tech-driven approaches. In its entirety, these platforms at IACP emphasized Cellebrite's unwavering commitment to collaborate with philanthropic and agency partners, aiming to make the modernization of investigations a reality, simplifying and expediting critical cases.
"I am so proud to be part of the Cellebrite team and to witness the partnership we have with the brave individuals in law enforcement both stateside and around the world," Marque Teegardin, President, Cellebrite Americas. "Our agile, global team is steadfast in our support for one another, and we remain committed to ensuring our customers and partners are always equipped, ready and Cellebrite-powered."