PROVIDENCE, R.I. – Barrington Police Dept have significantly increased  the ballistic protection for their officers and the safety of the town's residents and students,  with the purchase  of two new GC Patrol Shields from Graphene Composites USA, a Rhode Island-based technology company.
The GC Patrol Shields have been purchased using donated funds for safety purchases and will provide an additional arsenal  for Barrington's PD with unrivalled  protection. The shields have a unique lightweight design and unmatched ability to stop multiple handgun and rifle rounds, including edge shots.  
At only 21 lbs, the GC Patrol Shields can quickly be combined to create a shield wall barricade  for active shooter situations, evacuations, and rescue.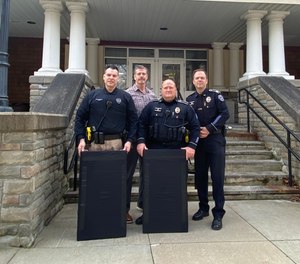 "Keeping our citizens safe from harm is of paramount importance  to us," said Chief Michael Correia, Barrington. "The GC Patrol Shields will enhance protection and safety, allowing first responders to confidently deploy when it matters  most, without compromising mobility and usability.  We sincerely thank the benefactors for enabling this purchase."
Darren Delaney, VP Protection  Division, GC said "we are proud to bring our unique and unparalleled technology to Barrington. The GC Patrol Shields will provide enhanced tactical protection for their officers and residents."
To find out more, please visit our website or get in touch at info@graphenecomposites.com 
About Graphene Composites
Graphene  Composites is a world leader in advanced materials engineering.  We are driven by our ethos – GC for Good – working with our partners to apply our expertise to make truly life-enhancing products.