Sponsored by Cellebrite
By Laura Neitzel, Police1 BrandFocus Staff
Internet crimes against children (ICAC) have spiked in recent years, fueled by increasingly sophisticated technology, the complexity of peer-to-peer networks and the dark web, where child offenders can commit their crimes in relative anonymity, largely out of reach of law enforcement.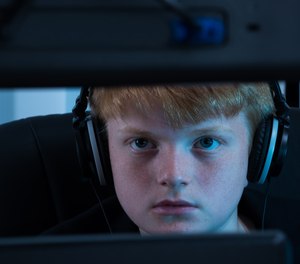 In 2022, the National Center for Missing and Exploited Children (NCMEC) via its CyberTipline received nearly 32 million reports of the possession, manufacture and distribution of child pornography. Online enticement of children for sexual acts nearly doubled between 2021 and 2022. This category of crime includes "sexploitation," in which children are duped or coerced to share explicit photos or videos and then blackmailed for money, sex or more images under threat that the images would be made public.
It's a lucrative business for the offenders and organized crime syndicates, devastating for the victims, and a daunting global challenge for law enforcement agencies working to stop these abhorrent crimes.
For resource-strapped departments to combat ICAC, law enforcement needs access to high-tech digital intelligence tools that bring crucial information out of the shadows and reveal the sinister web of connections among perpetrators and those who enable them.
Bringing internet crimes against children out of the shadows
Internet crimes against children involve three common elements: a child, an electronic device such as a cell phone or computer, and a sexually related crime. The internet has made it easy for offenders to perpetrate these crimes, evidenced by the growing volume of material being generated.
Law enforcement has several challenges in investigating ICAC. Due to the nature of the crime, much of the evidence is digital, not physical. And with the age and sensitivity of the victims, investigators must rely on uncovering digital evidence hidden in devices versus more traditional investigation methods like child testimony and witness interviews.
But the fact that perpetrators are often using their mobile devices to conduct ICAC has a silver lining.
Those same texts, social media posts, photos, videos, phone calls, contact lists or locations can be mined for evidence that can tie criminals to a crime, lead to convictions and shed light on the darkest offenders of ICAC.
Because most of these crimes leave a digital footprint, gaining access to a suspect's device is critical to law enforcement's ability to successfully investigate and prosecute these crimes. But with the average device containing over 50,000 images, more than three hours of video and 500,000 messages, accessing and organizing the most crucial bits of data manually can consume weeks of time and effort.
Cellebrite's investigative analytics solution, Pathfinder, modernizes ICAC investigative processes to facilitate a faster, more efficient investigation and uncover insights that lead to breakthroughs. Using advanced analytic algorithms, Pathfinder is uniquely equipped to find the proverbial needles in a haystack.
Pathfinder helps solve some of investigators' biggest challenges
Pathfinder uses machine learning to automatically consolidate digital evidence from multiple sources and organize it in a structured way that allows for easy and intuitive review as well as advanced analysis of the digital evidence, specifically those from mobile devices.
Here are three ways Pathfinder aids investigations into ICAC.
1.  Pathfinder consolidates data
The first step with Pathfinder is to consolidate digital evidence from multiple sources into one platform to allow easy review and analysis of complete case data – from both victims and offenders. Investigators can upload videos and photos, text messages, geolocation data, social media, browsing history, call logs, contacts and other digital data from a mobile device into the platform, and combine it with evidence like cell data records, computer data, cloud data and CCTV media files gathered from other sources.
Consolidated data leads to simplified media analysis. In addition to 35 pre-set media categories that tag items identified as "nudity," "maps," "hotel rooms," and "screenshots," for instance, investigators can isolate a face in an image and identify that individual as a person of interest. Pathfinder's advanced media analysis and search capabilities will surface instances where that person appears across the range of evidence. It can also analyze videos and easily navigate to relevant frames, identify unique audio and convert speech to text to identify key words and phrases. Topic-detection algorithms automatically sort through and review all textual files to highlight key topics and words from the investigator's watchlist.
Pathfinder also reviews all communications across different channels to create a cohesive timeline, map connections between suspects and analyze geolocation data to track victim's and suspect's positions and identify geographical patterns.
2.  Pathfinder facilitates in-depth case analysis and prevents crime
When the data is consolidated, Pathfinder leverages advanced investigative tools that allow investigators to identify key persons of interest, whether victim or offender. In the way a traditional detective may create an investigation board using photos and strings to connect people and locations, Pathfinder digitally analyzes links between persons of interest, including fake identities and avatars, to identify unknown persons and potential victims and gain a complete picture of criminal networks.
Pathfinder also helps prevent additional crimes by identifying suspect luring patterns and "hunting grounds" and leveraging ICAC-specific hash databases.
By casting a wide virtual net, identifying patterns and connections digitally and surfacing actionable digital intelligence in a user-friendly dashboard, Pathfinder empowers investigators to use their time and investigative talents focusing on the most relevant evidence and chasing the most promising leads. It also reduces investigator fatigue, burnout and emotional stress by reducing the amount of time they are exposed to the full range of disturbing media and narrows the field of evidence to that most relevant to the case.
3.  Pathfinder enables collaboration across agencies
Because internet crimes against children are a global phenomenon, Pathfinder enables tight collaboration and knowledge sharing across investigation teams, law enforcement agencies and victim advocates.
For instance, Pathfinder can leverage hash value datasets from Project VIC and the NCMEC Child Victim Identification Program (CVIP), the United States' clearinghouse for identified victims of child sexual abuse material, to identify key information in the images maintained in Pathfinder's database. Pathfinder also leverages local and global knowledge of offenders' community jargon for targeted data review.
With Pathfinder, investigators can identify child sexual abuse material quickly and share knowledge across investigation teams and law enforcement agencies to speed investigations and identify repeat offenders across jurisdictions. The collaboration and knowledge sharing globally increases the likelihood that these heinous criminals can be brought out of the dark – wherever they hide – to face the justice they deserve.
Let tech diminish the harm
Crimes against children are some of the most difficult and time-consuming cases investigators work on. A digital intelligence tool like Pathfinder can take on some of the prolonged and psychologically harmful tasks, optimizing the time to evidence with a solid chain of custody and reducing the investigator's exposure to trauma.
By identifying patterns, making connections and sharing investigative insights, Pathfinder enables law enforcement agencies fighting crimes against children across the globe to present the strongest evidence and most airtight cases to prosecution.
Visit Cellebrite to learn more about how Pathfinder and other solutions are being used to combat internet crimes against children.
Download the infographic Crimes against children are on the rise.