It was 22 years ago that America truly changed forever. It began like a fairly typical late summer day with the sun shining over New York City — notably so as the day before a late afternoon storm soaked the city. Unfortunately for the "Twin Towers" of the World Trade Center in lower Manhattan, there would never be another sunset.
On the morning of September 11, 2001, terrorists infamously hijacked four airplanes. Two of those aircraft crashed into the World Trade Center, another struck the Pentagon outside of Washington, D.C., while a fourth was brought down by passengers over rural Pennsylvania. That latter jetliner was reportedly headed towards the United States Capitol Building. By that evening the United States — joined by allies and partners around the world — was at war. However, unlike past conflicts, this "Global War on Terror" was fought with an enemy that was neither a nation state nor a global power.
The attack on 9/11 didn't just scar New York City. It affected the whole country, which is why towns and cities across the United States now honor those who died on that tragic morning, as well as those who answered the call and aided the Big Apple when it needed it most.
Honoring the First Responders
To mark the 13th anniversary of attack and the recovery in 2015, Michigan's Benton Harbor unveiled a memorial in the aptly named 9/11 Resiliency Plaza, which is located across from the fire station across from City Hall. The ceremony honored the fallen firefighters, police officers and EMS workers.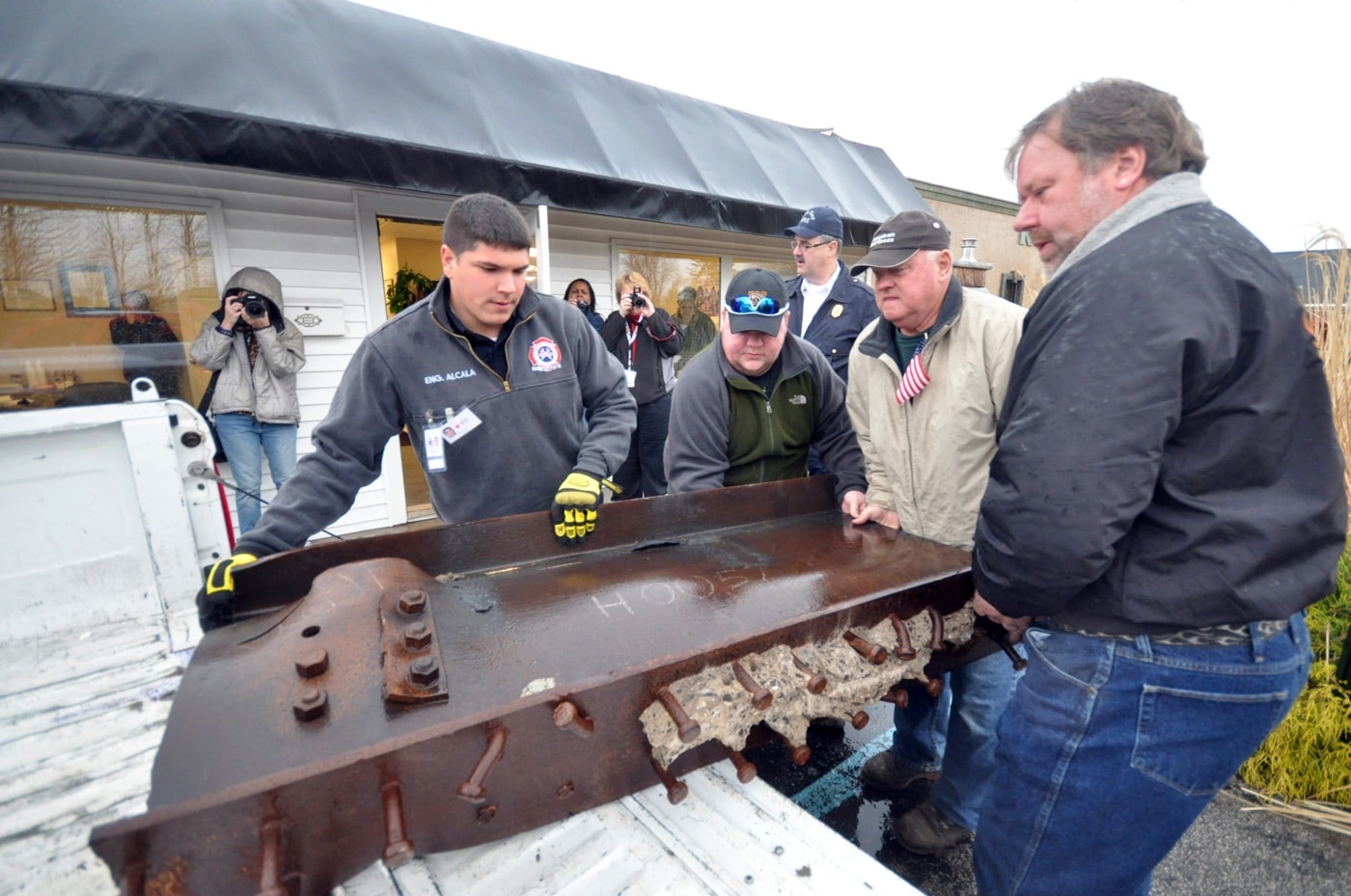 While today, much attention is paid to those first responders who literally drop what they are doing to travel to aid communities far from home — whether it is in Maui, Florida or elsewhere — there was a time when these unsung heroes were all but ignored by the media. That changed after 9/11.
"They're unsung heroes," explained Peter Colovos, a Michigan real estate developer who spearheaded the installation of an entire plaza in Benton Harbor dedicated to honoring the victims and first responders.
"We really appreciate that these people put their lives on hold, and in many cases on the line to help others. That is what our culture and society is. We literally couldn't survive as a nation without our first responders," he told The Armory Life. "9/11 really brought it home. It is certainly about the first responders."
From an Airport Hanger to a Memorial
The centerpiece of the 9/11 Resiliency Plaza is a 500-lb. section of steel beam from the World Trade Center — elevated on two concrete pylons that represent the lost Twin Towers.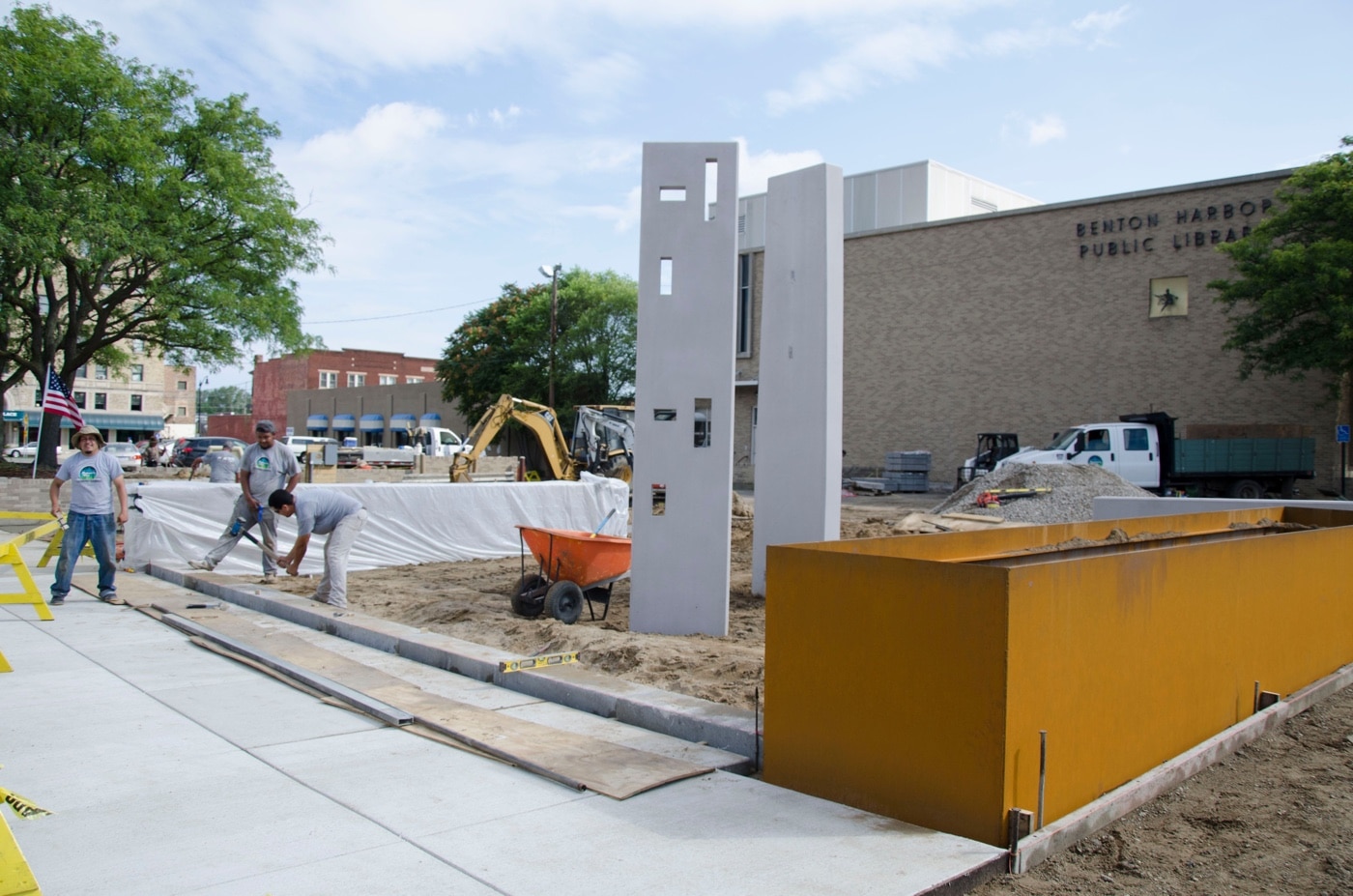 The local Red Cross had been one of thousands of organizations that had sought to obtain a piece of the steel beams that had once been part of the World Trade Center. For years, the Port Authority of New York and New Jersey had stored the steel and other artifacts in a hanger at John F. Kennedy International Airport.
The artifacts of steel went to community groups, museums, fire stations, town halls and military bases from Manhattan to Afghanistan. Complicating matters was the fact that the beams actually came from a crime scene and each piece that was to be loaned out had to be approved by a federal judge. Among the criteria was that the steel had to be open to the public, although it could be left outside in the weather.
As one former Port Authority official had explained, "It's not meant to be pretty. It's meant to be real."
As the program from the Port Authority was nearing its end, a lottery was held for the final 450 pieces of steel — and the American Red Cross of Berrien and Van Buren Counties ended up with a nearly 500-lb. section. Two firefighters from Niles Township Fire Department, Aaron Floor and Eddie Alcala, drove to New York City and escorted the artifact to Berrien County.
However, it wasn't immediately put on display, and instead, the section of steel beam spent two years in the organizations board room, when Colovos stepped up to aid in developing a permanent memorial.
"It was difficult for the Red Cross to raise money, and the only option was to turn it back in. I was chosen to determine how to best create the memorial, and it was an honor of a lifetime," said Colovos, who said it took less than a second to decide to accept the project.
The Memorial Today
The 9/11 Resiliency Plaza in Benton Harbor is just one of dozens of memorials that honor the victims, the survivors and the first responders. But this memorial was placed near a part of town that could also use something uplifting.
"It is near the city hall and fire station," he added. "It couldn't be in a better place, as it is now in a community that needs to think about the future. This is about building bridges that bring us together, and about looking forward."
Guardianship of the steel beam was transferred to the newly established World Trade Firmitas LLC, a non-profit 501(c)3 established to design, construct and maintain the display. All funding for "Project Resiliency" has been provided by private donations, which cover the costs of implementation as well as ongoing maintenance.
"It is essential that we have memorials like this one," added Colovos. "Another generation has been born since that terrible day. We need to remember these lessons from the past. While we're just custodians of the artifact, I hope it is here forever."
Editor's Note: Please be sure to check out The Armory Life Forum, where you can comment about our daily articles, as well as just talk guns and gear. Click the "Go To Forum Thread" link below to jump in and discuss this article and much more!
Join the Discussion