By Sam Stanton

The Fresno Bee
AUBURN, Calif. — A Northern California law enforcement agency released a report early Friday on the July escape of murder suspect Eric James Abril from a hospital, detailing staffing shortages and policy failures that may have contributed to Abril's escape.
The 18-page report, commissioned by Placer County Sheriff Wayne Woo and issued by former Sacramento County Sheriff Scott Jones, gives little detail about how Abril managed to escape from a lone deputy as he was being guarded at Sutter Roseville Medical Center, but the Sheriff's Office said in a news release that it occurred while the deputy was using the restroom.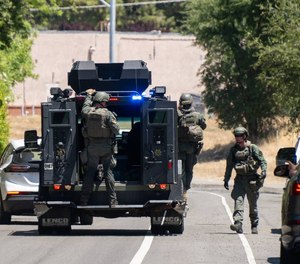 "Our deputy utilized the restroom inside the hospital room without ensuring Abril was properly restrained," the release said. "Abril had defeated his restraints and took the deputy's restroom break as an opportunity to escape.
"There was a failure to follow fundamental law enforcement practices and departmental policies; this, combined with complacency, led to the escape."
The Sheriff's Office said it already has taken steps to improve its security over inmates taken from jail to hospitals for treatment, requiring two-deputy escorts.
Woo told The Bee in an interview that Abril was wearing a belly chain and had one hand cuffed when the incident occurred, and that the inmate "was able to defeat the cuff."
"Due to security reasons we're not releasing how he was able to do that," the sheriff said.
He added that he could not discuss whether the deputy faces discipline and that the incident is still under investigation.
"There were policy violations and the internal affairs investigation is not competed yet, it's still ongoing and I can't release information related to employee discipline anyway," Woo said.
Jones' report also cited human failures and other issues without detailing precisely how Abril managed to escape.
"In this particular incident, there were several contributing factors that allowed Abril to combine his 'intent' with the 'opportunity' and 'ability' to effectuate his escape," Jones concluded. "In addition to any potential human failures, staffing shortages and pressures, policy deficiencies and ambiguities, and historical internal practices were chief contributing factors."
The report says Abril was taken to the hospital on July 6 by ambulance for treatment of seizures and that "during his time in the hospital he was continuously supervised by a single deputy on rotating shifts."
"At approximately 0258 hours on July 9, 2023, Abril, who had managed to slip his only remaining cuff off his right hand, ran out of the room, down a staircase, out an emergency exit, and escaped," the report says. "During the time of Abril's initial flight, the deputy's attention was distracted but he was almost immediately able to give chase.
"The deputy was unable to locate or apprehend Abril and several minutes later broadcast the escape to engage other law enforcement resources."
Police radio traffic at the time indicated a deputy was running down the stairs in pursuit of Abril before he ran out of the hospital and disappeared until he was recaptured a day later.
"Fortunately, nobody was injured or further victimized by Abril's escape or his 33 hours on the run," the report says.
The report also notes that because of Abril's criminal history he initially was classified as requiring two-deputy escorts, but that within about a month his compliance with rules allowed that to be downgraded to one-person escorts.
Sheriff Woo took responsibility for the escape and ordered the report after Abril was re-captured.
"The biggest takeaway for me, honestly, is that while we made course corrections bringing Scott Jones in really gave us the perspective of a larger Sheriff's Office in our region and their point of view," Woo said. "We made the appropriate course corrections in order to hopefully ensure that this never happens again."
Abril had been in custody since April 6 following a shootout with officers at Mahany Park that left one hostage dead and wounded a California Highway Patrol officer.
The report notes Abril's lengthy criminal history and says that upon his arrest he was classified as "Administrative Separation (AdSep)," which the report says "commands a higher level of security, due to his charges."
"His classification also necessitated that he had two officers escort him within the facility," the report says. "Approximately 33 days after his initial classification review, after several successful weekly 'AdSep' reviews, his need for two-officer escorts within the facility was dropped to one.
"He remained classified as Administrative Separation. By all accounts, Abril was consistently compliant within the facility."
Jones suggested that inmates backgrounds be evaluated for the severity of charges, criminal history, conduct in jail and potential for violence before a decision is made about whether the inmate is escorted for treatment by one or two deputies.
The Sheriff's Office responded to Jones' findings by saying it already had changed policy so that "two or more deputies are assigned to every emergency medical escort and/or hospitalization of an inmate."
Jones, who left office as Sacramento County's sheriff in December, found that there were clues in Abril's cell at the Auburn jail that could have led authorities to conclude Abril was planning something.
Woo said he could not discuss what those clues consisted of because of the pending investigation, but Jones' report gave some indications.
"In this instance, subsequent investigation revealed some documentation in Abril's cell that could have triggered further inquiry," Jones wrote. "There were also recorded calls captured on the jail telephone system that could have likewise triggered further investigation.
"Neither may have been enough on their own to decipher the escape plot or his intent, but may have prompted enough concern to elevate his transport to two officers. The jail's telephone system is not only capable of capturing all calls from the facility, but is also able to be queried by specific terms, words, or other factors.
"Unfortunately, this is seldom done, unless by a detective for a case they are working, the District Attorney's Office for one of their cases, or an outside agency for a specific case or suspect.
"In short, there is no targeted effort within the jail to try and discover and thwart crimes, contraband, escape plans, or any other nefarious conduct regularly committed by inmates."
Jones suggested that the jail add a deputy to serve as an "intelligence officer" who could "develop a network of inmate informants that could prove particularly beneficial," a move the Sheriff's Office said already had been approved.
The report also recommended that inmates at hospitals or elsewhere outside of a jail be restrained at all times "when medically or legally allowable."
"This is also true of an inmate who is hospitalized, regardless of whether they are being supervised by one or two officers," Jones wrote. "Belly-chains, handcuffs, and/or leg shackles should be employed to limit the inmate's movement and mobility.
"Consideration should also be given to securing the inmate to a fixed object, such as the bed rail, when allowable by medical standard or state law. If a hard restraint must be removed for a medical procedure, consideration should be given to soft restraints or zip-ties if they will not interfere with the medical procedure.
"Restraints should not be removed unless medically necessary, and only as long as necessary."
The Sheriff's Office concurred, saying policies have been updated to require that "deputies shall use restraints that offer the maximum level of security without compromising the need for medical care."
Jones also noted that if a single deputy is guarding an inmate, options must be addressed if the deputy needs to use the restroom, either by calling in another deputy from patrol or using an on-site officer at a hospital. But that issue appears to have been addressed by the sheriff's new two-deputy policy for escorts.
Abril's escape paralyzed portions of Roseville and surrounding neighborhoods as law enforcement agencies used aircraft, drones, armored vehicles and dogs to finally track him down in a creekbed behind a resident's home, and Jones' report noted that such escapes are not isolated incidents.
"There are over 2,000 escapes from custody nationally each year," Jones wrote. "Further, over 300 of these escapes occur specifically during transports to and from outside locations, and 68% of those are from a caged vehicle.
"All other things being equal, a jail facility is the most secure place to house an inmate. Conversely, when inmates are out of the facility they are less secure and therefore more prone to both planned and impromptu/opportunistic escapes.
"An inmate needs three things to escape: intent, ability, and opportunity. It should be assumed that every inmate has the intent to escape. That is the only factor of the three that officers or an agency has no control over."
Jones added that he found both of Placer County's jails "consistently operate at 'minimum staffing' — which is to say they have no officers additional to the mandatory fixed-post positions that must be filled."
"There is little to no staffing allocation to cover planned time off or sick leave," Jones wrote. "This has resulted in a current climate where forced overtime is the norm.
"On the day I conducted interviews at the South Placer Jail, for example, there were seven officers on forced overtime, either by being held over the prior shift, coming in early for the next shift, or called in to work the entire shift."
The Sheriff's Office responded by saying that as of July 1 county supervisors had approved five new deputy positions "to address West Placer growth."
"Sheriff Woo has made the decision to utilize these positions in the corrections division," the report says. "They will specifically focus on handling medical tasks, hospital transports, and related security responsibilities across the corrections division."
©2023 The Fresno Bee.

Visit fresnobee.com.

Distributed by Tribune Content Agency, LLC.