By Jack Dura and Summer Ballentine

Associated Press
FARGO, N.D. — One police officer died and two others were critically injured after a suspect began shooting on a busy street in Fargo, North Dakota, on Friday afternoon, police said.
Officers returning fire killed the suspect during the shooting that occurred before 3 p.m. A civilian also was seriously wounded, police said in a late-night statement that provided no details on a possible motive.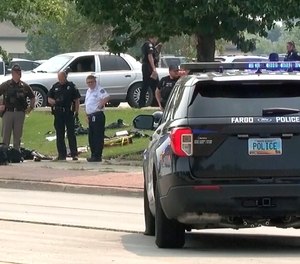 The Fargo Police Department said the investigation is ongoing and withheld the identities of the officers and the suspect pending notification of their families.
North Dakota Attorney General Drew Wrigley said the state Bureau of Criminal Investigation was working with federal, state and local law enforcement in response to a "shooting incident" but provided no details.
Fargo police will provide more details during a press conference scheduled for 3:30 p.m. Saturday at Fargo City Hall, said Gregg Schildberger, the city's chief communications officer.
"We sincerely are asking for your patience and our community's patience and understanding as the Fargo Police Department works through this incident," Schildberger said Friday evening.
"This is very difficult on all of us," Schildberger said. "We appreciate all the messages from the community that have been given to us in support of our officers."
Sanford Medical Center Fargo spokesperson Paul Heinert said in an email that the hospital received patients stemming from the shooting and updates on their conditions would come from the Fargo police.
Multiple witnesses said a man opened fire on the police officers before other officers shot him. Shortly afterward, officers converged on a residential area about 2 miles (3.2 kilometers) away and evacuated residents while gathering what they said was evidence related to the shooting.
Witnesses reported seeing and hearing gunshots in the area. Shannon Nichole told KFGO Radio she was driving at the time.
The Fargo PD will host a press conference at 3:30 p.m. on Saturday, July 15 in the Commission Chambers within Fargo City Hall to provide additional information related to the July 14 critical incident which occurred near 9th Avenue South and 25th Street South in Fargo. pic.twitter.com/j4Um8nvdVi


— Fargo Police (@FargoPolice) July 15, 2023
"I saw the traffic stop and as soon as I drove, shots were fired and I saw the cops go down," Nichole said. "My airbag went off and the bullet went through my driver's door."
A man grabbed her and said they needed to get out of the area, Nichole said.
Chenoa Peterson told The Associated Press that she was driving with her 22-year-old daughter when a man pulled out a gun and began firing at police: "He proceeds to aim it and you just hear the bullets go off, and I'm like, 'Oh, my God! He's shooting!'"
Peterson's first instinct was to pull over and try to help, but having her daughter there convinced her to leave. "It's weird knowing that if you were 10 seconds earlier you could have been in that," she said.
Surveillance video provided by Fargo resident Allison Carlson captured the rapid sounds of gunfire.
Bo Thi was working alone at a nail salon near the shooting scene when she heard what sounded like fireworks or a motorcycle backfiring. She said gunshots didn't cross her mind at the time.
Police and other agencies across the region posted sympathies for Fargo police on Facebook.
"Thinking of our brothers and sisters in Fargo," a post from the South Dakota Fraternal Order of Police said.
The Glenwood Fire Department in Minnesota posted, "Please keep the blue lights shining to show our support of not only our local law enforcement, but also those affected by today's events!"
A total of five individuals sustained injuries. FPD can confirm that one of its officers has died as a result of sustained injuries and two remain in critical condition. Two other civilians sustained serious injuries, including the suspect who died as a result of the shooting.


— Fargo Police (@FargoPolice) July 15, 2023
The investigation is on-going and the identities of those involved are not being released at this time as the process of notifying family members is on-going.

The Fargo Police Department is unable to release any additional information prior to this press conference.


— Fargo Police (@FargoPolice) July 15, 2023